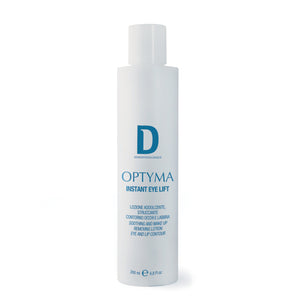 How it works

How to use

Features & Benefits

Ingredients

Reviews
Polyhydroxy Acids (PHAs) work to gently exfoliate dead skin cells around the eye while they stimulate epidermal growth and cell repair due to their antioxidant properties. A mix of Trehalose and Vegetal Proteins mimic the skin's composition of NMF (natural moisturizing factor) and create a protective barrier around the cells in the epidermis, increasing skin hydration. Mallow and Cornflower distilled waters cleanse and invigorate the skin while a dose of Lipo-Aminoacid Complex ensures the gentle removal of makeup.
Apply a small amount of lotion to a clean cotton ball and gently wipe eye and eye contour area, as well as the lip area, to remove all traces of makeup. Optyma Lotion Makeup Remover is also effective as part of a regular eye treatment routine by applying lotion-moistened cotton pads over each eye after applying an eye mask, and closing your eyes while reclining for a period of ten minutes.
● GLUCONOLACTONE: Polyhydroxy Acid with strong hygroscopic power and long-term moisturizing action. Applied to the skin, it favors cell renewal by modulating the process of keratinization. It also has strong antioxidant capacity and restores damaged skin barrier.
● MIX OF TREHALOSE AND VEGETAL PROTEINS: Trehalose mimics the skin's composition of NMF (Natural Moisturizing Factor) and creates a protective barrier around the cells in the epidermis. Hydrolysates Plant Proteins generate a skin-protecting action, increasing skin hydration.
● MALLOW AND CORNFLOWER DISTILLED WATERS: Obtained via a process of distillation in vapor stream. The Mallow distilled water has a soothing, protective, refreshing and anti-redness effect on the skin while the Cornflower distilled water has outstanding cleansing properties and invigorating, soothing and skin regenerating effects.
● LIPO-AMINOACID COMPLEX: Natural origin amino acid complex ensures gentle but effective removal of makeup, without affecting the normal skin barrier, leaving skin soft and hydrated.
Active Principles: Gluconolactone, mix of trehalose and vegetable proteins, Mallow and cornflower distilled waters, lipo-amino acid complex
Aqua (Water), Hexylene Glycol, Gluconolactone, Caprylyl/Capryl Glucoside, Lauryl Glucoside, Hydrolyzed Vegetable Protein, Sodium Benzoate, Trehalose, Glucose, Fructose, Centaurea Cyanus Flower Extract, Malva Sylvestris (Mallow) Flower/Leaf Extract, Glycerin, Sodium Hydroxide, Parfum (Fragrance), Citric Acid, Trisodium Ethylenediamine Disuccinate, Dextrin, Sucrose, Urea, Potassium Sorbate, Hexyl Nicotinate, Aspartic Acid, Glutamic Acid, Alanine
good lotion for the eyes
Very light lotion that feels so good on the eyes after a long day staring at the computer screen! Removes all my make up.
great make up remover
Great for taking make up off at night!