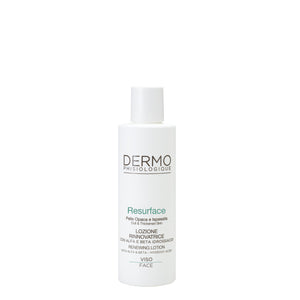 How it works

How to use

Exfoliation and Skin Problems

Ingredients

Reviews
A mix of Alpha Hydroxy Acids (AHAs) help eliminate dead skin cells and stimulate cell turnover to improve skin rejuvenation and elasticity. Salicyclic acid, a plant hormone that is obtained from the bark of white willow and wintergreen leaves, and niacinamide (vitamin B), when used together reduce the likelihood of irritation during the exfoliating process, while polysaccharides (a chain of carbohydrate structures) extracted from Tamarind seeds attract large amounts of water thereby aiding optimal skin hydration, suppleness and tone.
After cleansing face with Aqualife pH5 Multi-active Facial Cleanser, add a few drops of Resurface Peeling Face Solution to a clean cotton pad and gently wipe pad over the face, neck and décolletage. Follow this step by applying Dermo-pH's Resurface Night Cream.
Exfoliation and Skin Problems
​Exfoliation favors the removal of dead skin cells and impurities (make-up, dust and pollution) that tend to build up on the surface of the epidermis, speeding up dehydration and the loss of skin radiance. Exfoliation is recommended for:
- Dry, dull, scaly skin, as improved cell renewal after removing the dead skin cells helps keep the skin soft and hydrated.
- Impure skin or with imperfections, as the removal of dead skin cells helps clear the pores and prevent the appearance of impurities and comedones.
- Aging skin, where the cells remain on the stratum corneum for longer, giving rise to skin opacity.
- Skin suffering from hyperpigmentation due to age or external stimuli (excessive sun exposure, medication, inflammation or pregnancy). The removal of dead skin cells rich in melanin and keratin evens out the color of the skin.
- Scarred skin: the polishing action leaves the skin smoother and more uniform, reducing the depth of scars.
Aqua (Water), Vaccinium Myrtillus Fruit/Leaf Extract, Saccharum Officinarum (Sugar Cane) Extract, Salicylic Acid, Tamarindus Indica Seed Polysaccharide, Citrus Limonum (Lemon) Fruit Extract, Citrus Aurantium Dulcis (Orange) Peel Extract, Acer Saccharinum (Sugar Maple) Extract, Polydextrose, Dextrin, Niacinamide, Phenoxyethanol, Parfum (Fragrance), Caprylyl/Capryl Glucoside, Amylopectin, Ethylhexylglycerin, Sodium Polyacryloyldimethyl Taurate.
Products that work
The lotion feels light and refreshing. The skin feels hydrated and healthy with a beautiful shine
Skin perfection vitamin C serum
I love this product! It makes my skin glow!