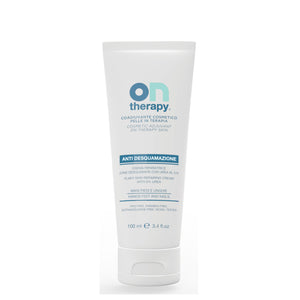 How it works

How to use

Description

Pilot Study

Ingredients

Reviews
On Therapy Anti-Flakiness Cream has a rich texture and is drenched with intense moisturizing and cell-restoring properties. The perfect balance of natural lipids, such as Jojoba Oil and Rice Bran Oil, and the precise factor of other functional ingredients, such as Allantoin (an oxidized compound of Urea Acid) and Hyaluronic Acid, encourage cellular turnover and is especially formulated for desquamation cases, or intensely flaking skin.
Apply locally to dry, flaking skin as needed following therapeutic treatments.
Anti-Flakiness cream for the skin, even during pharmacological or oncological therapy
What is it?
A rich emulsion with 5% Urea to counter peeling/flaky skin caused by therapy, external agents and localized dermatological problems affecting the body, hands, feet and nails.
Indicated for:
Skin desquamation, also for dry, irritated flaky skin. High tolerability from birth – Pediatric Clinical Test.
Apply in the case of:
Ontherapy anti desquamaton cream repairs areas of flaky skin, even in the case of palmar-plantar erythrodysesthesia (hand-foot syndrome), hyperkeratosis, palmar-plantar desquamation and nail alterations. Also provides relief from skin affected by dermatological problems such as psoriasis and dermatitis. Suitable for treating the secondary cutaneous effects of systematic autoimmune pathologies such as diabetes and inflammatory bowel disease (IBD).
Result:
Skin feels balanced, softer and properly nourished after application of Ontherapy anti desquamation cream.
A Pilot Study carried out on 170 breast cancer patients shows that Ontherapy products are indicated for aesthetic treatment of people during and after cancer therapies. The Pilot Study proves that daily use of Ontherapy® products, according to the protocol, improves Skin Related Quality of life (SRQoL) with the reduction of perceived symptoms arising from cancer therapies and reduce the negative impact of skin alterations on Skin Related Quality of life (SRQoL) during therapies.
Aqua (Water), Urea, Hydrogenated Coco-Glycerides, Olus Oil (Vegetable Oil), Sorbitol, Isopropyl Palmitate, Lanolin, Octyldodecanol, Polyglyceryl-3 Dicitrate/Stearate, Glyceryl Stearate, Cetearyl Alcohol, Simmondsia Chinensis Seed Oil (Simmondsia Chinensis (Jojoba) Seed Oil, Oryza Sativa Bran Oil (Oryza Sativa (Rice) Bran Oil), Hydrolyzed Rice Protein, Sodium Hyaluronate, Oryza Sativa Starch (Oryza Sativa (Rice) Starch), Allantoin, Glyceryl Stearate Se, Potassium Phosphate, Caprylyl Glycol, Xanthan Gum, Hydroxyacetophenone, Lactic Acid, Sodium Hydroxide, Phenoxyethanol, Parfum (Fragrance).